Canada-US Relations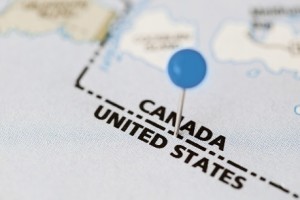 As is often referenced by politicians on both sides of the border, the Canada-U.S. relationship is the most important and valuable bilateral connection for either country.  According to US Ambassador Bruce Heyman in an opinion piece published in the Globe and Mail earlier in 2015, Canada and the U.S. traded approximately $735 billion in goods and service in 2013 – the highest total on record.  That equals around $2 billion of bilateral trade generated every day.
The Canada-U.S. relationship remains deep, complex and long-lasting.  With the October 19 federal election in Canada and then the US presidential election following in November 2016, more changes to this relationship are on the horizon.  Like all relationships, this one ebbs and flows, with irritants impacting relations between the two.  The Keystone XL project continues to generate the most media attention and public debate, with heavy lobbying in Washington by Canadian politicians of all stripes and at different levels of government (up to and including Stephen Harper), business leaders and a wide range of other players.  Circumstances have changed in recent months, however, with the NDP sweep in the Alberta provincial election and Premier Rachel Notley putting the aggressive lobby undertaken by then-Premier Jim Prentice on indefinite hiatus.  As the Obama administration rolls out its long-awaited climate change plan, there are now loud rumblings that President Obama will reject Keystone this fall, in a bid to preserve his legacy on environmental issues.  This will pose as a significant obstacle to current Canada U.S. relations which will not be easily or quickly surmounted.
Other pressures on the Canada-U.S. relationship include the construction of a new bridge crossing between Windsor and Detroit, which the U.S. is supportive of but which the Obama administration has so far refused to fund.  In addition, with the ongoing focus on rail safety following the July 2013 tragedy in Lac-Mégantic, Québec has boosted efforts between Canada and the U.S. to harmonize rules governing safe rail operations in what is one, integrated rail transportation market
While there are undeniable pressures on the Canada-U.S. relationship, it is important not to overlook the continued collaboration and partnership between the two countries on numerous other issues, namely foreign policy. Prime Minister Harper and President Obama have emerged together on approaches to address the unfolding battle against ISIS in the Middle East, the Ukraine-Russia crisis and the fight against the Ebola epidemic.  As these and other situations continue, the Canada-U.S. relationship will be relied on (and also tested) even more.